Have you ever been faced with "flipped seams"? Well, they are fixable and they happen to every quilter at some point.   You've nested your seams and pinned them securely. You stitch your seam like always and when you turn it over, you see the bottom seam has flipped. How frustrating! But, it's not you; it's your sewing machine.
In the example above, only one half of the seam allowance has flipped over.  It looks like an open seam allowance. Usually it's the complete seam that has flipped over.  Let's start with how to fix this little problem. There are three things you can do:
1. Leave it be. Iron it the way you want it to go. So what if you have a little twist at the seam. Nobody will ever know!
2. Un-sew that small section and re-sew it again. No fun!
3. Snip into the seam allowance just behind the seam. This allows the seam to lay flat. This is an easy quick fix.
To snip the seam allowance, you'll need small, sharp scissors. Be careful with this! You just want to snip up to the seam by a few threads. Err on the side of "not too close" but close enough.
Now your seam allowances will lay flat. Pretty as a picture!
Now let's get to the really important part of this lesson.  How to prevent flipped seams from happening in the first place!  It's such an easy solution; you're going to love it.
The reason your seams are flipping is because there is a "lip" or a raised edge on your sewing machine bed. Right where the throat plate meets the arm or extension table. When your bottom seam allowance runs across that edge, it flips over.  It will only happen with the seam allowances that are facing the needle/throat plate.
To prevent that from happening, just take a piece of tape (Washi tape works really well) and place it across the raised edge. Don't press it down too much along the raised edge.  You want it to act as a bridge. This will put an end to your flipped seams.
In case you're wondering, this picture above shows a starter scrap under the presser foot and that purple, thick tape is the sewing edge. This gives a perfect, scant 1/4″ seam allowance.
Of course, there is a product made specifically for the task at hand.  It's called the Betty Bridge Supreme.  This notion works really well. It smooths out the height difference with a little more "oomph" than a piece of tape.  But first try the tape!  I think you'll find it makes a big difference.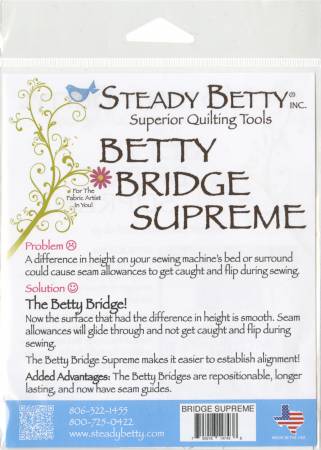 How's that for an easy fix? Now go forth and make beautiful seams!