So what are "bias bars"? How do you use them?  Well, if you have project you are working on that requires appliquéd vines, curved handles on a basket block, or a Celtic design, then you will love having a set of bias bars in your quilting tool kit! They are very nifty and work really well. This method of creating bias strips with the seam allowances hidden underneath the strip itself is quite easy to create and any quilting cotton fabric will work!
Bias Press Bars are the perfect tool for making small bias tubes used in applique, quilting and craft projects. These flexible bars are high heat resistant nylon; easy-to-see School Bus Yellow. The no melt set includes five sizes that are each 12″ long. The set has offers 1/8″, 3/16″, 1/4″, 3/8″ and 1/2″ widths and there are instructions right on the package from Collins.
This is an example of bias stems appliquéd onto a background before leaves and flowers, etc. are applied. See the nice curves?!
The handle on this basket block below was appliquéd on using a bias piece created using a selected pressing bar.
Below is Celtic appliqué where bias strips are created and applied in a continuous knot formation replicating an ancient Celtic design.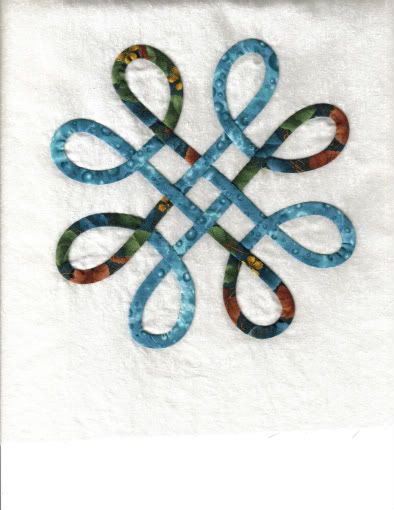 Check out this video which explains more on how these bars work. Note: Hamels can special order in any of these brands for you, however we currently stock the Collins set of bias bars. The bars are very easy to use and can create all kinds of curves as you apply the pieces to your project.
Hope you enjoyed this video and will incorporate the use of these bars into a project either now or in the future. The results are so worth it and everyone will wonder how you sewed those skinny strips without any seam allowance showing. Happy stitching!